Episodes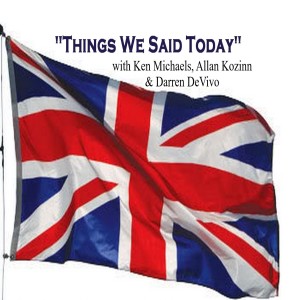 Friday Feb 04, 2022
Friday Feb 04, 2022
In Episode 360 of Things We Said Today, Ken Michaels, Allan Kozinn and Darren DeVivo discuss the often-overlooked "Yellow Submarine" album and the 1999  "Yellow Submarine Songtrack" expanded remix. We also, in light of the delay in the release of "The Beatles: Get Back" DVD/Blu-ray, pass along Peter Jackson's advice that we let Disney and Apple know that we want bonus material on such a release. Here are some relevant addresses, as well as a link to an online petition:
To email Disney:  TWDS.Global.Communications@disney.com
To catch their attention on Twitter, include @DisneyPlus, @disney and @thebeatles in your Tweet. (Disney's Facebook pages don't allow for messages, public or private.)
In social media, use the hashtag #TheBeatlesGetBack. 
To send Apple snail mail, write to Jeff Jones, Apple Corps, 27 Ovington Square, London, England SWW3 1JL.
The petition: https://www.change.org/p/walt-disney-the-beatles-get-back-extended-cut?utm_content=cl_sharecopy_32233916_en-GB%3A6&recruiter=1251097143&recruited_by_id=60186320-83ab-11ec-926e-91f788da4087&utm_source=share_petition&utm_medium=copylink&utm_campaign=psf_combo_share_initial&utm_term=psf_combo_share_initial&share_bandit_exp=initial-32233916-en-US
AND, for further discussion of Yellow Submarine, check out our interview with Dr. Bob Heironymus and Laura Cortner, authors of  "Inside the Yellow Submarine" and "It's All in the Mind":     https://www.youtube.com/watch?v=mimPhQnvxms&t=182s. Ken also interviewed them on his Ken Michaels Radio YouTube channel: https://www.youtube.com/watch?v=rlQqu5ntbF4&t=996s and he spoke with Bruce Spizer and Al Sussman about Bruce's latest book, "Magical Mystery Tour and Yellow Submarine": https://www.youtube.com/watch?v=Q6ZJOmByEtA&t=602s 
NOTE: This is an audio version of the podcast. There is also a video version on our YouTube page.
As always, we welcome your thoughts about this episode of the show or any other episode. We invite you to send your comments about this or any of our other shows to our email address thingswesaidtodayradioshow@gmail.com, join our "Things We Said Today Beatles Fans" Facebook page and comment there, tweet us at @thingswesaidfab or catch us each on Facebook and give us your thoughts. And we thank you very much for listening. You can hear and download our show on Podbean, the Podbean app and iTunes and stream us through the Tune In Radio app and from our very own YouTube page.  Our shows appear every two weeks. Please be sure and write a (good, ideally!) review of our show on our iTunes page. If you subscribe to any of our program providers, you'll get the first word as soon as a new show is available. We don't want you to miss us. Our download numbers have been continually rising, as more people discover us and it's all because of you. So we thank you very much for your support!