Episodes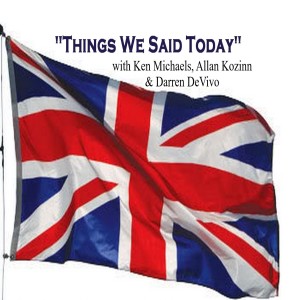 Tuesday Oct 11, 2022
Tuesday Oct 11, 2022
            In Episode 376 of Things We Said Today, Ken Michaels, Allan Kozinn and Darren DeVivo interview Jay Bergen, the lawyer who represented John Lennon in the lawsuits with Morris Levy over the "Roots" album. Mr. Bergen is the author of "Lennon, the Mobster & the Lawyer," an excellent, richly detailed look at the lawsuits and trials, with plenty of material – including long stretches of Lennon's testimony – from the trial transcripts.
            Keen-eared listeners will notice that in this episode, Ken's news segment appears at the end instead of at the beginning. Here are links for further information about his final item, the George Harrison tribute: the George Harrison Tribute website is: https://www.harrifest-ght.com/?fbclid=IwAR3IwYC3N0tI3K2bTKa8Oq_cpxInflC4VxObWJgzZHo47mXP_UZ6E1nsH9E  and their Facebook page is: https://www.facebook.com/profile.php?id=100057285473778
As always, we welcome your thoughts about this episode of the show or any other episode. We invite you to send your comments about this or any of our other shows to our email address thingswesaidtodayradioshow@gmail.com, join our "Things We Said Today Beatles Fans" Facebook page and comment there, tweet us at @thingswesaidfab or catch us each on Facebook and give us your thoughts. And we thank you very much for listening. You can hear and download our show on Podbean, the Podbean app and iTunes and stream us through the Tune In Radio app and from our very own YouTube page.  Our shows appear every two weeks. Please be sure and write a (good, ideally!) review of our show on our iTunes page. If you subscribe to any of our program providers, you'll get the first word as soon as a new show is available. We don't want you to miss us. Our download numbers have been continually rising, as more people discover us and it's all because of you. So we thank you very much for your support!